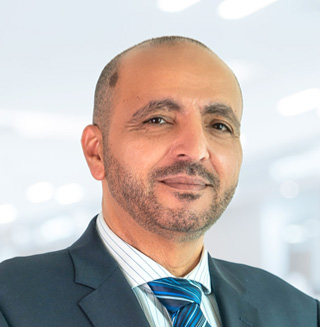 Consultant Interventional Cardiologist
Dr Shereef ElBardisy is a graduate from Cairo University in Egypt and holds a Medical Doctorate (MD) from Al Azher University. He is a Senior Cardiovascular Medicine and Interventional Cardiology Consultant, and has been practicing in the UAE for more than 10 years, performing more than 2,000 procedures .
He received his advance medical training in Interventional Cardiology from the National Heart Institute in Egypt, which is the largest tertiary care center for Cardiology in the Middle East and Africa, and where he is still a Consultant.
• Cardiac Check-ups including Electrocardiography (ECG or EKG), Echocardiography, Exercise treadmill test,
Holter, Ambulatory Blood Pressure Monitoring and Stress Echocardiography
• Medical management of Hypertension and Heart Failure
• Medical Management of Patients with Acute Cardiac emergencies
• Radial-based approach for Cardiac Catheterization procedures
• Primary Percutaneous Coronary Intervention (PCI)
• Balloon Mitral Valvuloplasty
• Complex Coronary Interventions including Left Main Angioplasty, Bifurcation Angioplasty,
Coronary Bypass Graft Angioplasty, Atherectomy for severe calci cation in coronary arteries
• Treating Chronic total Occlusion by Antegrade and retrograde approaches
• Implantation of cardiac devices such as pacemakers and ICDs
• Atrial Septal defect Closure
• Septal Alcohol Ablation
• Peripheral Arterial Angioplasty
Working Hours
Weekdays (OPD) – 9:00 AM to  to 7.00 PM
Pediatrics, OB/GY – 9:00 AM to 9:00 PM
Friday – Friday Clinics (9 AM to 5 PM)
Emergency – 24*7
Contact US
Appointment : +971 44 06 3000
Emergency :+971 44 06 33333
[email protected]