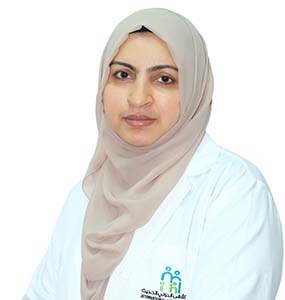 Specialist Obstetrics and Gynecology, Laparoscopic Surgeon
FMIS, MS (OBG),MBBS
Dr. Shanitha Fathima has over 14 years of experience in obstetrics and gynaecology.Started her career as Assistant Professor in MES medical college, Perinthalmanna,from where she gathered vast experience in her specialty and was passionately involved in  undergraduate and postgraduate teaching .Her special interests  includes minimal invasive gynecology and High risk pregnancy.After coming to uae, She has worked in some of the premier tertiary healthcare facilities Dubai.
Professional Association
Member of American Association of Gynaecologic Laparoscopists (AAGL) .
Federation of obstetrical and gynaecological society of India (FOGSI) .
Skilled obstetrician, gynaecologist and laparoscopic surgeon with  proficiency in various procedures.
Laparoscopy:
Laparoscopic Myomectomy
Laparoscopic Hysterectomy
Laparoscopic Ovarian Cystectomy
Laparoscopic adhesiolysis and treatment for Endometriosis
Laparoscopy for emergencies like Ectopic Pregnancy, ovarian torsion etc..
Diagnostic Laparoscopy
Hysteroscopy:
Diagnostic and operative Hysteroscopy
Hysteroscopic Polypectomy
Hysteroscopic Myomectomy
Hysteroscopic Septal Resection
Hysteroscopic treatment for RPOC,Cesarean scar pregnancy…
Obstetrics
Managing Normal delivery Caesarean and Instrumental deliveries.
Management of high risk pregnancies (hypertension in pregnancy , gestational diabetes, previous cesarean, preterm birth)
Vaginal birth after cesarean.
Recurrent  pregnancy loss care
Gynaecological problem
Medical Management of endometriosis and adenomyosis including Mirena insertion. & Trans-vaginal Gynec Surgery
Adolescent Health, treatment of PCOD .
Contraceptive advice
Preconception and premarital counselling
Well women checkup.
Screening of gynaecological cancers.
Treatment of menopausal problems
Infertility evaluation and treatment
Transvaginal cervical cerclage.
OpenGynaecological surgeries like abdominal and vaginal hysyerectomy, repair of uterine prolapse and other pelvic surgeries.
English
Hindi
Malayalam
Arabic(Basic)
Contact US
Appointment : +971 44 06 3000
Emergency :+971 44 06 33333
[email protected]
Working Hours
Weekdays (OPD) – 9:00 AM to  to 7.00 PM
Pediatrics, OB/GY – 9:00 AM to 9:00 PM
Friday – Friday Clinics (9 AM to 5 PM)
Emergency – 24*7