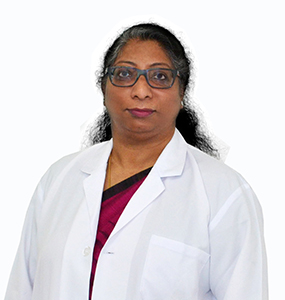 Specialist General Surgeon
MBBS, MS(General Surgery)
Dr. Jessy Cherian, MBBS & Master in General Surgery, is a gold medalist & alumni of prestigious B.J Medical College, Pune, Maharashtra India & trained at Sassoon Hospital, Pune. Dr. Jessy Cherian has an excellent & impressive track record with around 24 years of practice in UAE, & India.
She started her career from Sassoon Hospital, Pune as Resident in 1993. She has worked at various hospitals in Kerala as Surgeon/Consultant Surgeon and obtained Specialist Surgeon License in Dubai in 2002 and is in active practice since then. Since 2016 she is a Community Doctor at IMH. She also runs a Surgical Specialty Clinic in Dubai since 2005.
Dr. Jessy is well experienced in initial diagnosis and preparation of patients for both conservative and elective surgical treatment & management. Her expertise in treating surgical ailments of lady patients is of great value, which she has demonstrated at her Specialty clinic.
Contact US
Appointment : +971 44 06 3000
Emergency :+971 44 06 33333
[email protected]
Working Hours
Weekdays (OPD) – 9:00 AM to  to 7.00 PM
Pediatrics, OB/GY – 9:00 AM to 9:00 PM
Friday – Friday Clinics (9 AM to 5 PM)
Emergency – 24*7