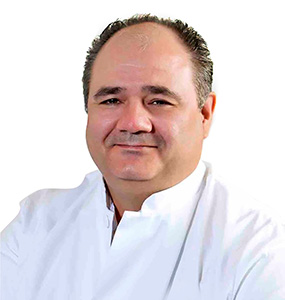 Consultant orthopedic surgeon
Staatsexamen Germany,Dr. med. Doctor of Medicine, Germany, PhD, Doctorate Biology, UK,Dipl. Oec. Med. (MBA Healthcare), Swiss
Dr. Hans-Joachim Poessel has 21 years of experience in USA, Europe and the Middle East. After graduating from Heinrich-Heine-Universität Düsseldorf, Germany, he absolved his Residency at the surgical and trauma Dept in St. Hildegardis KH in Cologne, Germany and the Orthopaedic Clinic and Polyclinic of Duesseldorf University (Germany). He also trained at the Washington Orthopaedic and Knee Clinic in Virginia and Maryland as well as Howard University Washington (USA) through his residency years.
He finished with a Medical Research and Practice Degree Doctor of Medicine cum laude (Dr.med.) from Duesseldorf University. He finished postgraduate Education in Healthcare Management (MBA) and Biological Medicine (PhD) in Switzerland and UK.
Before moving to the UAE, he was the Owner of VIP Treatment in Düsseldorf (Germany) and Founder of a Policlinic in Wolfsburg, Germany and was engaged in Egypt, Kingdom of Saudi Arabia and Abu Dhabi.
He is currently a member of the American Academy of Orthopaedic Surgeons, the Emirates Orthopaedic Society, the German Orthopaedic Sand Trauma Society and the German Sports Doctors Society.
Arthroscopic Surgery- Shoulder, Knee, Ankle & Bunion
Sports medicine of all levels
Minimal Invasive Spine Injections
Biomolecular Orthopaedics (Cell Treatment, PRP)
English
German
Dutch, Afrikaans
Spanish
Learning Arabic, Tagalog, Mandarin
Working Hours
Weekdays (OPD) – 9:00 AM to  to 7.00 PM
Pediatrics, OB/GY – 9:00 AM to 9:00 PM
Friday – Friday Clinics (9 AM to 5 PM)
Emergency – 24*7
Contact US
Appointment : +971 44 06 3000
Emergency :+971 44 06 33333
[email protected]