What is Anorexia?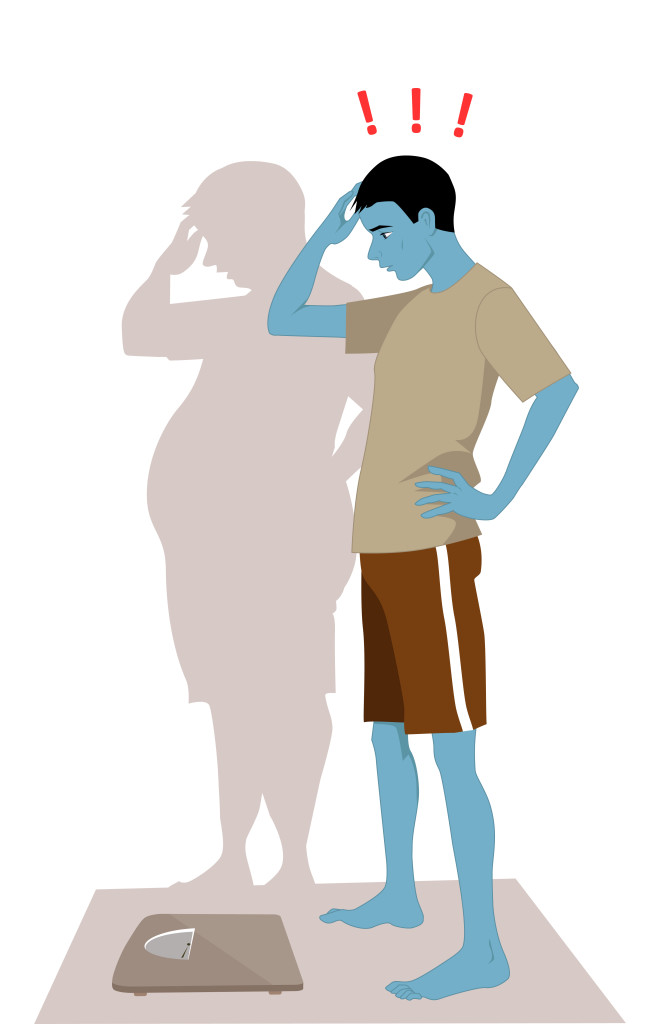 Anorexia Nervosa is a psychological and possibly life-threatening eating disorder defined by an extremely low body weight relative to stature (this is called BMI [Body Mass Index] and is a function of an individual's height and weight), extreme and needless weight loss, illogical fear of weight gain, and distorted perception of self-image and body.
Additionally, women and men who suffer with anorexia nervosa exemplify a fixation with a thin figure and abnormal eating patterns. Anorexia nervosa is interchangeable with the term anorexia, which refers to self-starvation and lack of appetite.
Types of Anorexia
There are two common types of anorexia, which are as follows:
Anorexia Nervosa Binge / Purge Type – The individual suffering from anorexia nervosa binge / purge type, will purge when he or she eats. This is typically a result of the overwhelming feelings of guilt a sufferer would experience in relation to eating; they compensate by vomiting, abusing laxatives, or excessively exercising.
Restrictive Anorexia Nervosa – In this form of anorexia nervosa, the individual will fiercely limit the quantity of food consumed, characteristically ingesting a minimal amount that is well below their body's caloric needs, effectively slowly starving him or herself.
Causes
Anorexia is not a simple disorder. It has many symptoms and effects, and its causes are complex as well
Environmental factors
The effects of the thinnessculture in media, that constantly reinforce thin people as ideal stereotypes
Professions and careers that promote being thin and weight loss, such as ballet and modeling

Family and childhood traumas: childhood sexual abuse, severe trauma

Peer pressure among friends and co-workers to be thin or be sexy.
Biological factors
Irregular hormone functions

Genetics (the tie between anorexia and one's genes is still being heavily researched, but we know that genetics is a part of the story).

Nutritional deficiencies
Signs and Symptoms
Living with anorexia means you're constantly hiding your habits. This makes it hard at first for friends and family to spot the warning signs. When confronted, you might try to explain away your disordered eating and wave away concerns. But as anorexia progresses, people close to you won't be able to deny their instincts that something is wrong—and neither should you.
food behavior signs and symptoms
Dieting despite being thin – Following a severely restricted diet. Eating only certain low-calorie foods. Banning "bad" foods such as carbohydrates and fats.
Obsession with calories, fat grams, and nutrition – Reading food labels, measuring and weighing portions, keeping a food diary, reading diet books.
Pretending to eat or lying about eating – Hiding, playing with, or throwing away food to avoid eating. Making excuses to get out of
Preoccupation with food – Constantly thinking about food. Cooking for others, collecting recipes, reading food magazines, or making meal plans while eating very little.
Strange or secretive food rituals – Refusing to eat around others or in public places. Eating in rigid, ritualistic ways.
appearance and body image signs and symptoms
Rapid weight loss with no medical cause.

Feeling fat, despite being underweight – You may feel overweight in general or just "too fat" in certain places, such as the stomach, hips, or thighs.
Fixation on body image – Obsessed with weight, body shape, or clothing size. Frequent weigh-ins and concern over tiny fluctuations in weight.
Harshly critical of appearance – Spending a lot of time in front of the mirror checking for flaws. There's always something to criticize. You're never thin enough.
Denial that you're too thin – You may deny that your low body weight is a problem, while trying to conceal it (drinking a lot of water before being weighed, wearing baggy or oversized clothes).
purging signs and symptoms
Using diet pills, laxatives, or diuretics – Abusing water pills, herbal appetite suppressants, prescription stimulants, ipecac syrup, and other drugs for weight loss.
Throwing up after eating – Frequently disappearing after meals or going to the bathroom. May run the water to disguise sounds of vomiting or reappear smelling like mouthwash or mints.
Compulsive exercising – Following a punishing exercise regimen aimed at burning calories. Exercising through injuries, illness, and bad weather. Working out extra hard after bingeing or eating something "bad."
Steps to recovery
Admit you have a problem. Up until now, you've been invested in the idea that life will be better—that you'll finally feel good—if you lose more weight. The first step in anorexia recovery is admitting that your relentless pursuit of thinness is out of your control and acknowledging the physical and emotional damage that you've suffered because of it.
Talk to someone. It can be hard to talk about what you're going through, especially if you've kept your anorexia a secret for a long time. You may be ashamed, ambivalent, or afraid. But it's important to understand that you're not alone. Find a good listener—someone who will support you as you try to get better.
Stay away from people, places, and activities that trigger your obsession with being thin.You may need to avoid looking at fashion or fitness magazines, spend less time with friends who constantly diet and talk about losing weight, and stay away from weight loss web sites and "pro-ana" sites that promote anorexia.
Seek professional help. The advice and support of trained eating disorder professionals can help you regain your health, learn to eat normally again, and develop healthier attitudes about food and your body.
The difference between dieting and anorexia

Healthy Dieting

Anorexia

Healthy dieting is an attempt to control weight.

Anorexia is an attempt to control your life and emotions.

Your self-esteem is based on more than just weight and body image.

Your self-esteem is based entirely on how much you weigh and how thin you are.

You view weight loss as a way to improve your health and appearance.

You view weight loss as a way to achieve happiness.

Your goal is to lose weight in a healthy way.

Becoming thin is all that matters; health is not a concern.
Learn to tolerate your feelings
Identifying the underlying issues that drive your eating disorder is the first step toward recovery, but insight alone is not enough. Let's say, for example, that following restrictive food rules makes you feel safe and powerful. When you take that coping mechanism away, you will be confronted with the feelings of fear and helplessness your anorexia helped you avoid.
Challenge damaging mindsets
People with anorexia are often perfectionists and overachievers. They're the "good" daughters and sons who do what they're told, try to excel in everything they do, and focus on pleasing others. But while they may appear to have it all together, inside they feel helpless, inadequate, and worthless.
Develop a healthier relationship with food
Even though anorexia isn't fundamentally about food, over time you've developed harmful food habits that can be tough to break. Part of recovery is developing a healthier relationship with food.
Medical treatment
The first priority in anorexia treatment is addressing and stabilizing any serious health issues. Hospitalization may be necessary if you are dangerously malnourished or so distressed that you no longer want to live. You may also need to be hospitalized until you reach a less critical weight.